Tonight's that perfect evening. Go ahead, Swinger. Chill those cocktail glasses. Put on a smoking jacket and flash a winning smile at that particular young lady draped seductively over your leopardskin lounge. And don't forget to put on the sensuously smooth and exotic sounds of Denny Martin on your hi-fi. With the greatest collection of ultra-chic hits ever assembled on one disc of hot wax, you can't lose, Tiger. Fix yourself and your lady friend a brace of martinis and listen to these favorites: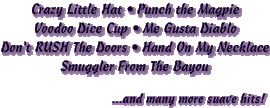 Copyright © 1997-2004 ArcticChaos and Friendly Morbidity.

Denny Martin, although a cool and suave and very together cat,
does not actually have an album out at this time; I was having
fun with Photoshop. He is also not to be confused with the fabulous
Martin Denny. Any similarity is coincidental, but would be intended
as flattery even if it wasn't. You dig this, Daddy-O?


[ Home | Map | Inhabitants | Cocktails | Diversion | Contact | Message Boards | Other Places ]